Bitcoin Price Prediction – May 11
It still appears that the market worth of BTC/USD has to trade values under the resistance line of $60,000. During the time of writing, the market trades around $56,130 at a rate of about 0.07% increase.
BTC/USD Market
Key Levels:
Resistance levels: $60,000, $65,000, $70,000,
Support levels: $50,000, $45,000, $40,000
BTC/USD – Daily Chart
The BTC/USD daily chart shows that there has been a notable number of trading candlesticks being formed around the level of $55,000 to show a kind of range-bound movement. On May 10, the emergence of a bearish almost put up a definite direction to the south. But, not too long, it was fake back into trading around the range zone. The 14-day SMA trend-line is placed over the 50-day SMA indicator witnessing the ups and downs slight-move of price. The Stochastic oscillators have signaled a warning as they crossed from the overbought region to briefly point towards the south a bit below range 80.
Is there a possibility that the BTC/USD market will go under a sell-off pressure more?
Going by the reading of Stochastic Oscillators as of writing, it is believed that the BTC/USD bulls stand a pose of getting corrected if more momentum is lost around the level of smaller SMA trend-line. If that presumed scenario gets a bit heightened, the crypto may resettle to find support again closer to the former low point of $50,000 level.
As of now, it is indicated that bears have the brighter chance to push the market southwardly through some support trading areas to a lower point in the long run. A cross of the bigger SMA by the smaller SMA to the south for strong confirmation of a full-fledged bearish run isn't achievable in the near time. Therefore, only the emergence of a bearish candlestick at a higher trading point wills the friendlier enough to the return of a downward motion at a particular point in time.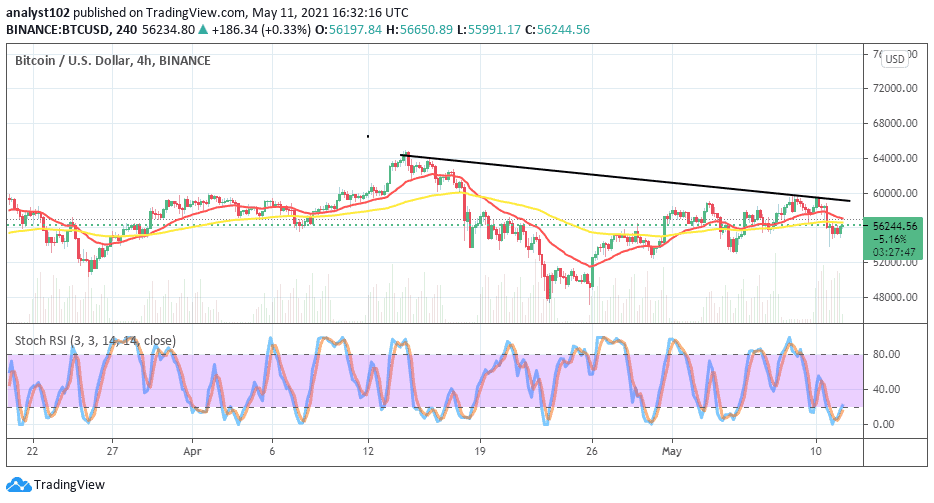 BTC/USD 4-hour Chart
The BTC/USD medium-term chart shows that the US Dollar has retarded against the recovery moves being made by BTC. And, that came into play during yesterday's trading session. Price now trades around the $56,000 zone where the bigger SMA is also seen. The 14-day SMA trendline has slightly bent from the top closely over the 50-day SMA. The Stochastic Oscillators are dipped from across towards the north in the oversold region. That shows the probability of the flagship crypto embarking on a recovery moving mote very soon. But, an interception of the bigger SMA indicator by the smaller SMA may pose a pause to that as price may then go down further to test the previous low level of $55,000.