Cryptocurrencies have taken the world by storm, with many digital assets posting better returns than the traditional investment markets. This nascent industry is seeing growing adoption daily. However, volatility also plays a huge role. Meanwhile, the crypto market is already long overdue for recovery, and these five best cryptocurrency to buy may fill your pockets fast in the event of a rally.
1. Bitcoin (BTC)
Starting off our best cryptocurrency to buy list is none other than Bitcoin. It does not need much introduction as many investors (both retail and institutional) got their first taste of the cryptocurrency market through BTC.
Bitcoin has been in the eye of the storm for many years since debuting in 2009. In the 2017 crypto bull run, it rose to the $20K mark before dipping. However, this pales in comparison to what Bitcoin has done in 2021 alone.
Controlling more than 50% of the nascent industry, Bitcoin took the emerging space to its first $1 trillion valuations and even bested this result by adding another $1 trillion to it. It rose more than triple its value in 2017, plateauing at $64,350 before market correction.
However, a host of negative reviews have seen Bitcoin slow its pace in the last few months. Chinese authorities banned Bitcoin mining and transactions in its territories. Also, Tesla's decision to stop accepting BTC for its electric sedans negatively impacted BTC's price.
BTC shed more than 50% of its value while dragging half of the crypto market down with it. It has struggled to make a recovery and has mostly traded in the $30K mark for much of May and June.
However, BTC is not done yet and has rallied 1.03% to $32,975 on the daily chart. Even though it is trailing the 20-day moving average (MA) support price at $33,794.51, Bitcoin is always known to make a massive jump when the market is right.
Its relative strength index (RSI) is currently at 44.17, making it one of the best cryptocurrency to buy for a rally.
2. Binance Coin (BNB)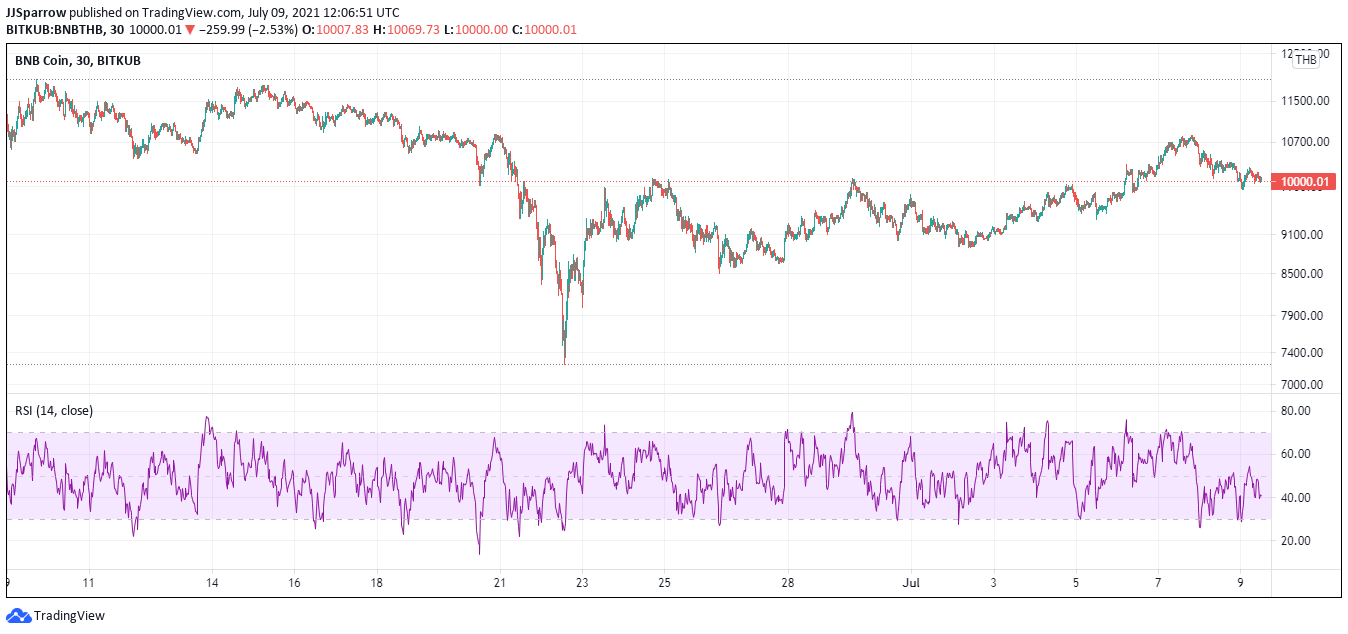 Next on our best cryptocurrency to buy list is proprietary coin BNB. Binance Coin has been a revelation this year. Coming into the year at just $38.24, the digital token has grown more than 5,000%.
Binance Coin is the native token for the world's largest crypto exchange Binance Global. Launched in 2017, BNB was created to discount fees on the Binance trading platform for holders.
Just like Bitcoin, BNB has a hard cap limit of 200 million tokens making it deflationary. The BNB team has also adopted reducing the number of BNB tokens in circulation by burning them to increase their value.
With Binance taking a prominent spot in the emerging crypto trading business and its proprietary coin becoming more valuable after every burning event, BNB has enjoyed a stellar 2021. It has surged to an all-time high of $650 before market correction, up more than 5,000% from its entry price for the year. Even though it is trading at almost half of its value at $309.30, BNB is still expected to make a comeback.
It currently trades above the 20-day MA at $308.77, and its RSI is above the oversold level at 47.35, making it one of the best cryptocurrency to buy in the event of a rally.
3. Aave (AAVE)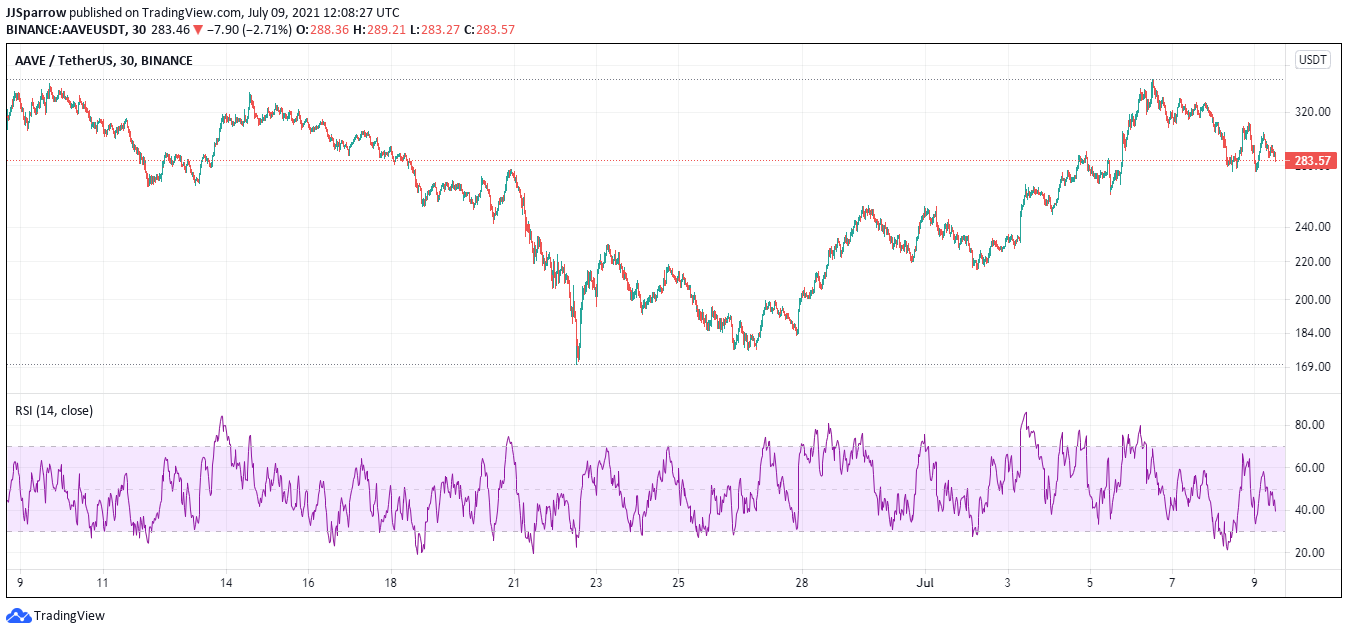 Next on our list of best cryptocurrency to buy list is decentralized finance (DeFi) protocol Aave. Launched initially as ETHLend in Nov. 2017, Aave has grown exponentially.
Aave is a DeFi crypto protocol that allows users to borrow and lend their crypto holdings for a handsome interest. Lenders earn interest when they provide liquidity with their digital assets into specially created liquidity pools on the Aave platform.
Borrowers can then access this liquidity by providing collateral and taking out a flash loan. The Aave network has also been able to separate itself from the growing DeFi lending market. With over 20 cryptocurrencies to be lent and borrowed, Aave controls the majority stake in the DeFi world.
AAVE is the native token of the lending protocol and has seen a meteoric increase in the last six months as DeFi begins to gain mainstream adoption. It serves as the governance token for the Aave protocol, and holders can also get discounted fees when they hold AAVE.
Coming into the year at $86.55, the AAVE token has surged more than 4,000% in the first five months of the year, reaching a record $648.54 on May 18. However, it could not sustain this price action and dipped to a mid-year low of $194. 28 on June 23.
With a current price peg of $291.12, AAVE is up 1.12% in the last 24 hours and 15% higher from its mid-year low. It is trading above the 20-day MA at $244.54, with its RSI standing at 52.93.
4. Yearn Finance (YFI)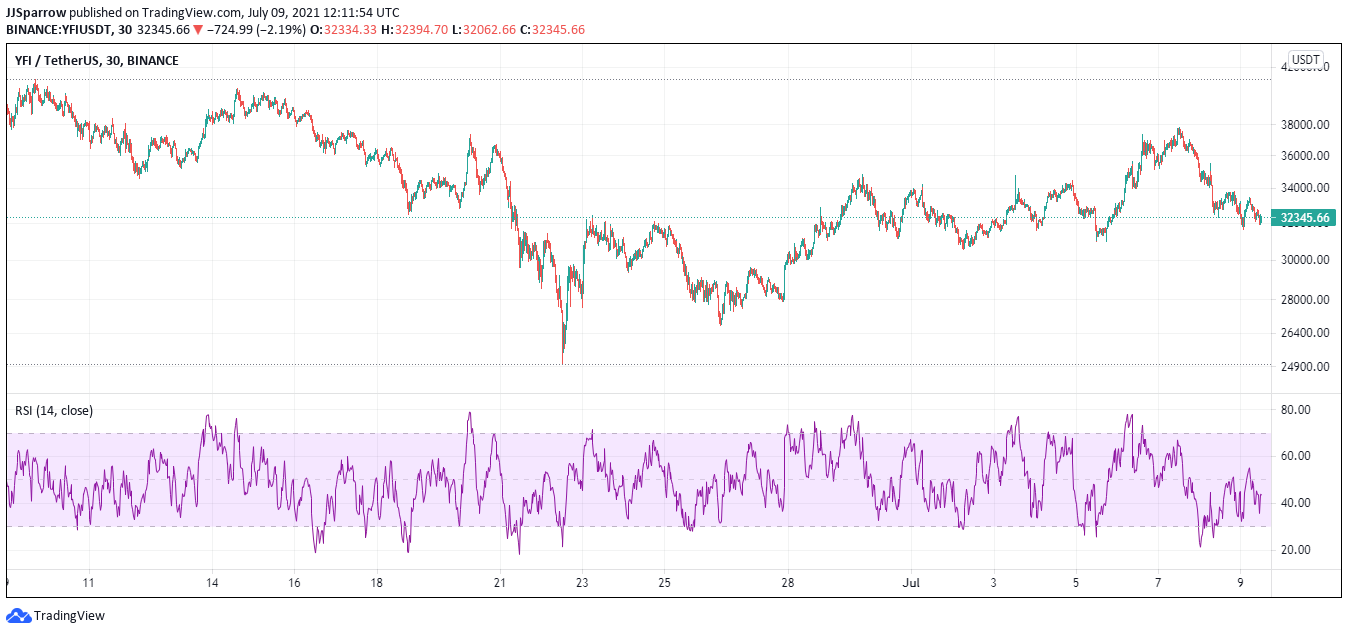 Another best cryptocurrency to buy for a rally is Yearn Finance or YFI. Launched in Feb. 2020, YFI is an aggregator protocol for DeFi that allows investors to automate their profits through yield farming.
YFI's mission is to simplify the fast-growing DeFi space for investors who are not technically minded or want to make some money without spending so much time.
It does this by constantly moving user funds between different DeFi lending protocols based on the ROI of their investment. This way, an investor is assured that they will always get the highest value for their investment.
Yearn Finance's native token is the YFI which serves as its payment and governance token. YFI was once the most valuable cryptocurrency in the crypto market due to its hard-cap limit of just 30,000 tokens. It surged to almost $90,000 before market correction.
Currently trading at $33,068.60, YFI is down 0.98%. However, it is on a bullish run as it is trading above the 20-day MA at $32,223.81. Its RSI is at 44.31.
5. XRP (XRP)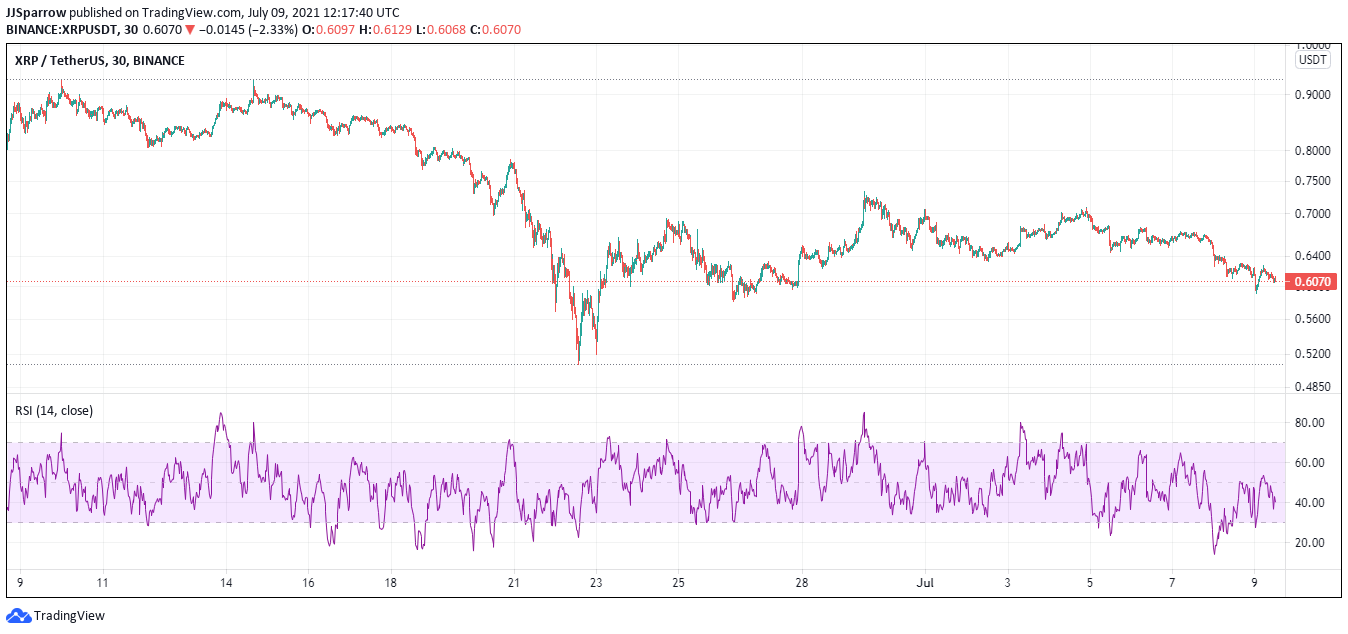 Last on our best cryptocurrency to buy list is blockchain protocol Ripple. The Ripple team have set out to make cross-border payment settlement less costly and faster. Using its XRP token, Ripple seeks to topple big payments companies like SWIFT.
Based in San Francisco, Ripple Labs has been in the eye of a legal storm with the Securities and Exchange Commission (SEC) for some months now. According to the regulator, the digital payments platform sold unregulated securities to investors without proper clearance.
Ripple has continued to deny the allegations, but the case is still pending. This bad press initially affected the value of XRP, with the digital token trading as low as 20 cents at one time.
However, XRP has rebounded and traded at a record $1.46 in mid-April. Even though the price has dropped since then, XRP has not slumped to its former lows.
It currently trades at $0.6089 and is down 0.92% on the daily chart. It is also experiencing a bear market as XRP is below the 20-day MA at $0.6507. However, its RSI is above the oversold level at 38.06. If you are looking to buy XRP for a bargain, this might be the time.
Capital at risk