The cryptocurrency market continues to frustrate short- and medium-term traders. Having recovered to $1.52 trillion on Monday, its total value has since fallen back down to $1.42 trillion. This is a drop of about 6.5% in a few days. And with the likes of dogecoin (DOGE) and ripple (XRP) falling by even greater margins, it's enough to frustrate the aims of any trader looking for a quick(ish) profit. However, as an antidote to the market's seesawing, we've put together a list of the 5 top cryptocurrencies to buy for long-term returns. This covers coins with stronger fundamentals than any others. It also covers cryptos that are likely to have good news on the horizon.
5 top cryptocurrencies to buy for long-term returns
Bitcoin (BTC)
Bitcoin (BTC) arguably remains the ultimate cryptocurrency when it comes to long-term returns. At $33,000 it hasn't done too great over recent timeframes though. It's down by 2% over the past seven days, and by 5% over the past fortnight. It's also 49% down from its all-time high of $64,804, set back in the heady days of April.
As the chart above indicates, bitcoin's resistance and support levels are currently declining. Support stood at around $33,000 at the beginning of the month, but has now fallen to around $32,000. Likewise, bitcoin's resistance level hit about $36,500 in early July, but has now subsided to under $34,000. With global markets also sliding, these levels could fall further.
Of course, the long-term case for bitcoin remains as strong as ever. A Pantera Capital report from June noted that BTC's 11-year trend line indicates a price of $62,500. This trend line — which is based on historical price data — also indicates a price of around $100,000 by the beginning of 2022. This may look unlikely under the present circumstances, but the stock-to-flow model also predicts a BTC price in excess of $100,000 by the year's end.
My on-chain data (color overlay in the chart below) tells me this bull is not over and 64K was not the top. That is in line with s2f(x) model. Also my floor indicator (not based on s2f) says we will not go below 47k Aug close. pic.twitter.com/K6Hfjdp26x

— PlanB (@100trillionUSD) July 2, 2021
Regardless of how much faith you have in price history and models, bitcoin remains more likely than almost any other crypto to appreciate over the long term. Not only is it a deflationary cryptocurrency with a fixed maximum supply, but it's attracting more investment interest than other coins. We've recently seen NYDIG open bitcoin purchases to the customers of 650 banks and credit unions in the United States. We've also seen the 3iQ-managed Bitcoin Fund launch on the Nasdaq Dubai. At the same time, the likes of JPMorgan and Morgan Stanley have launched services allowing their wealthier clients to buy bitcoin.
Yes, you will probably have to be patient. But bitcoin is easily one of the 5 top cryptocurrencies to buy for long-term returns.
Ethereum (ETH)
Ethereum (ETH) is another great cryptocurrency to buy for the long-term. Priced at $2,100, it's down by 3% in the past 24 hours but up by 6% in the past fortnight. However, it's down by 16.5% in the past month, as well as 51% down compared to its all-time high of $4,356.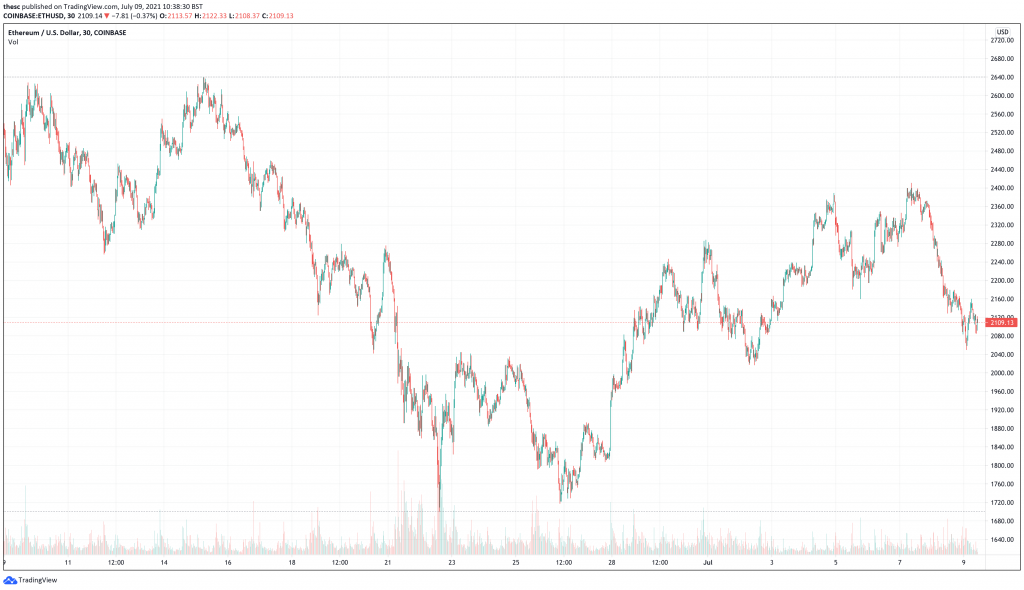 Despite these slips, the fact that ethereum is up by 750% in the past year shows its long-term potential. As a platform, Ethereum remains the backbone of most of the non-Bitcoin crypto ecosystem. For example, over $40 billion in total value is locked into Ethereum-based DeFi platforms. This compares to $9.5 billion for Ethereum's nearest rival, Binance Smart Chain.
At the same time, the arrival of Ethereum 2.0 will likely increase Ethereum's dominance of the sector. Among other things, this will provide Ethereum with a proof-of-stake consensus mechanism. Not only will such a mechanism permit Ethereum to scale to a much greater degree, but it will lock up a significant quantity of ETH. All other things being equal, this means price rises.
Ripple (XRP)
Ripple (XRP) may have suffered in recent weeks, but it's still one of the top cryptocurrencies to buy for long-term returns. It's down by 2% in the past day, to $0.614. It's also down by 7.5% in the past week, by 8% in the past fortnight, and by 30% in the past 30 days.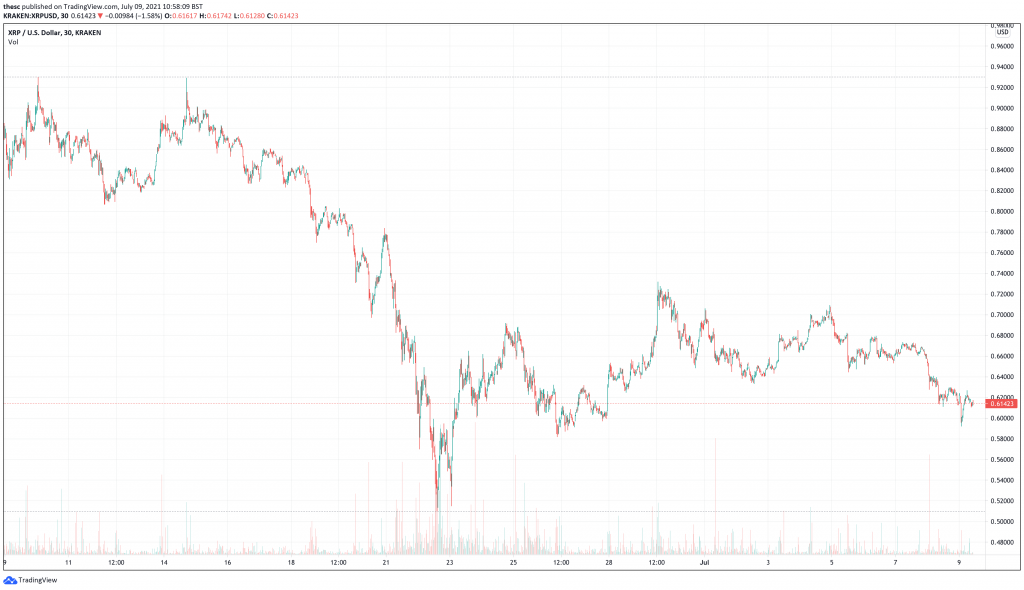 This obviously isn't very good going. That said, XRP has a real chance of surging massively towards the end of 2021 or early 2022. This is likely when its case with Securities and Exchange Commission will end. And for a growing number of lawyers operating in the cryptocurrency and fintech space, this case will end positively for Ripple.
In my experience, most parties pursued by the government either do not have the intestinal fortitude or the resources to go the distance. The government relies on that fact. Here, however, Ripple has both. And, as Mary Jo White said, the SEC is wrong on the facts and the law.

— James K. Filan (@FilanLaw) July 2, 2021
Cardano (ADA)
Cardano (ADA) has fared better than most cryptocurrencies during the current downturn. At $1.33, it has fallen by 2% in the past 24 hours, and 2% in the past fortnight. It's also down by 15% in the past 30 days, as well as 45% off its all-time high of $2.45. This may seem like a steep fall, but it's not quite as steep as the drops experienced by bitcoin and ethereum (as well as most other coins) since their ATHs.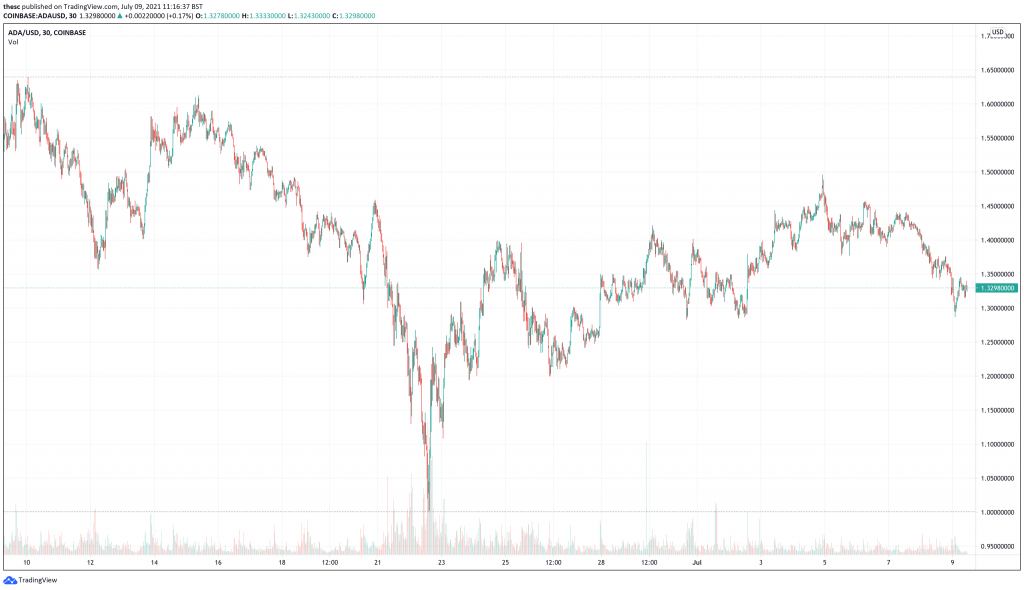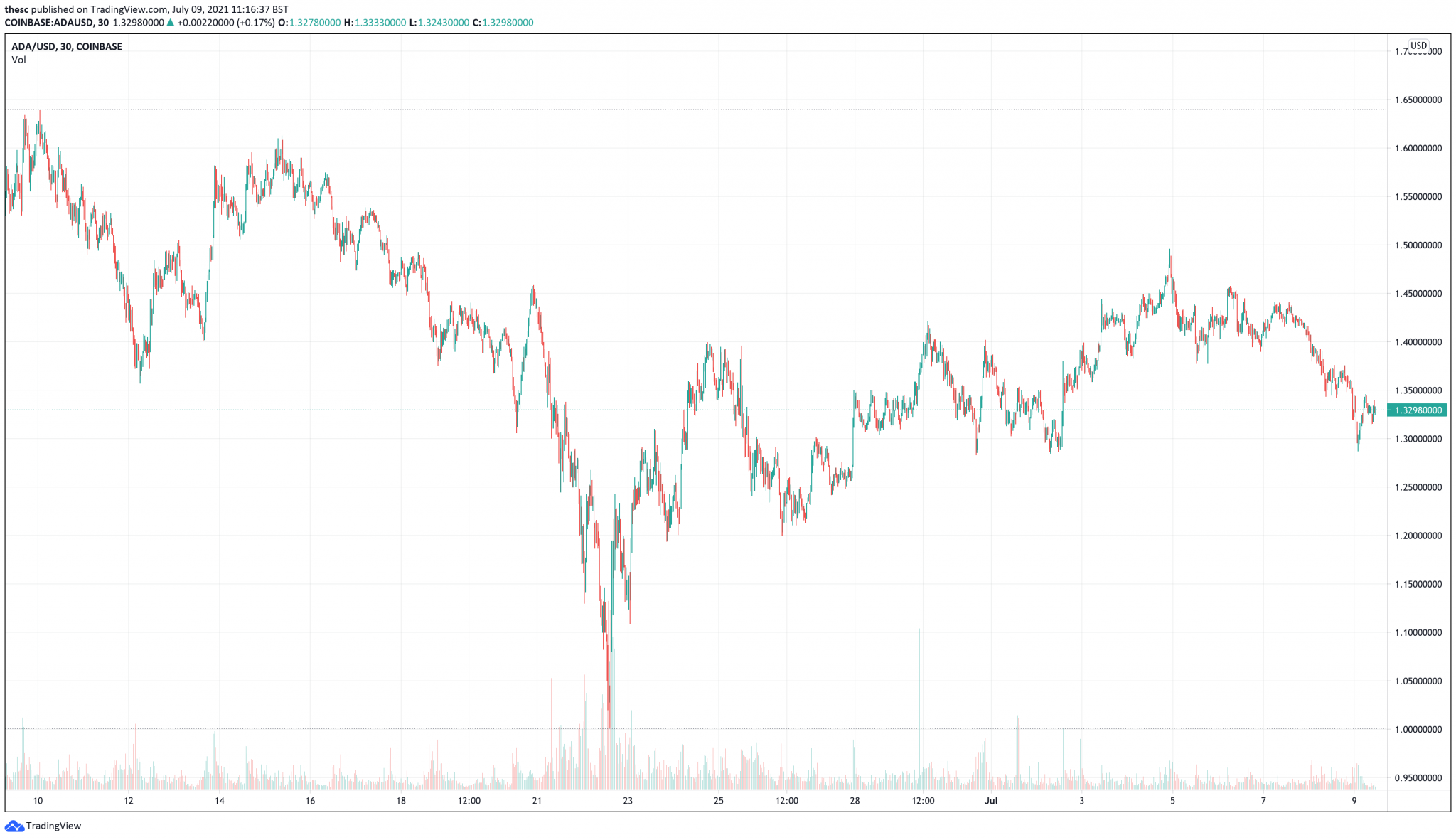 Cardano hit its ATH on May 16, some four days after the rest of the market fell in the wake of Tesla's u-turn on bitcoin payments. And what's interesting about ADA's relative outperformance of much of the market is that it has occurred before Cardano has fully matured as a platform.
Indeed, Cardano is still in the process of rolling out smart contracts, which are due by the end of August. Once it has done this, it will be able to host decentralised applications, making it a serious rival to Ethereum and Binance Smart Chain. Founder Charles Hoskinson has even gone on record as saying that around 100 companies are ready to launch on the platform.
Regardless, Cardano's new functionality should increase demand for ADA, and in turn this should increase the latter's price.
Uniswap (UNI)
Uniswap (UNI) is one of the few cryptocurrencies to buck the recent trend of declines. It's up by 15% in the last week and by 14% in the past fortnight, at just over $20. It is, however, down by 12% in the past 30 days and by 54% since its ATH of $44.92.
There are two main reasons why UNI has recovered more strongly than other cryptos. To begin with, it has rolled out the third version of its platform. This brings improved functionality, such as greater capital efficiency and reduced fees.
2/ v3 Capital Efficiency.

Efficiency of v3 (measured as $ volume / $ locked) has improved since launch (may keep rising), but steady state around 1.3x volume-to-TVL is not unreasonable.

Data courtesy of: @flipsidecrypto pic.twitter.com/VTOQquCfTN

— Vishesh (@visavishesh) May 24, 2021
Uniswao V3 has also recently launched liquidity mining, a feature which will reward users with new tokens for providing liquidity.
1/

We're very excited to share that the Uniswap v3 liquidity mining contracts have been deployed to Ethereum mainnet and all testnets.

Developers can start using these contracts today! https://t.co/ygMkq3OiTU

— Uniswap Labs (@Uniswap) July 1, 2021
More generally, it seems that UNI is rising because of what's happening to centralised exchanges. Most notably, Binance has attracted an incredible amount of scrutiny from regulators in recent weeks. As a decentralised exchange, Uniswap is likely to be immune to this kind of regulatory pullback. This is why it's one of the top cryptocurrencies to buy for the long-term, since it arguably has a better chance of thriving in the long-term than many centralised counterparts.
Capital at risk