SPONSORED POST*
In the crypto arena there are few guarantees but the current climate is more uncertain than ever, with wildly volatile digital currency prices.
So, how can you protect your existing crypto wealth, while generating an exceptionally high, reliable return on your BTC and ETH? According to a growing chorus of analysts, the answer is RBIS, the native token of ArbiSmart, an EU regulated, automated, crypto arbitrage platform. RBIS has already more than quadrupled in price since its introduction two years ago, and analysts are projecting a rise to 4,000% its current value by 2023.
Rapid Project Growth
The ArbiSmart development team has been incredibly busy and Q3 and Q4 will see a flurry of activity, with new utilities for the RBIS token, such as the interest-bearing wallet for fiat and cryptocurrency. In addition, the roadmap for Q1 and Q2 of 2022, includes a crypto credit card, highly competitive yield farming program and a new mobile app.
Another factor driving platform growth, which is more than likely to push up the token price, is that RBIS is set to be listed in Q4 of this year. Once it is tradable, you will need to buy RBIS on an exchange to use the ArbiSmart platform and token holders will be reluctant to sell. Not only will they be making unmatched passive profits of up to 45% a year, from crypto arbitrage, but they will also be earning capital gains from the rising value of RBIS, which regardless of what is happening on the crypto markets has continued on a steady upward trajectory.
ArbiSmart has been expanding at an accelerated rate over the past year. In 2020, the platform grew by 150% and since then, its popularity has soared with a surge in client acquisition in recent months. The amount of RBIS that can ever be created is limited to 450 million, so as demand grows, the price will keep rising.
Much of ArbiSmart's growing popularity has been its ability to provide a haven against crypto volatility, particularly in the recent bear market. To gain a better understanding, let's take a closer look at the project and see how this automated crypto arbitrage platform has provided a hedge against falling prices.
A Profitable Utility
Crypto arbitrage involves taking advantage of the fact that temporarily, a coin can be available at different prices, on a number of exchanges, simultaneously.
ArbiSmart's fully automated platform is connected to 35 exchanges, which it scans around the clock, monitoring hundreds of coins at once, looking for these short-term price differences. These brief windows of opportunity are the result of a variety of factors such as disparities in the liquidity levels and trading volume between smaller and larger exchanges.
The ArbiSmart algorithm will buy the coin on the exchange where the price is lowest and then instantly sell it on the exchange where the price is highest to make a profit before the window closes and the price inefficiency resolves itself.
As an ArbiSmart user, you simply sign up, deposit fiat or crypto and the platform takes over. It automatically converts your funds into RBIS for use trading crypto arbitrage, to generate annual profits of up to 45%, depending on the size of your investment.
Crypto arbitrage generates profits with the same steady consistency in a bear or bull market, as price inefficiencies occur, regardless of a cryptocurrency's price trajectory. As a result, the platform has seen a surge in popularity in the first half of 2021, from investors looking for a safe home for their crypto capital, where they could continue to generate revenue, even as prices crashed.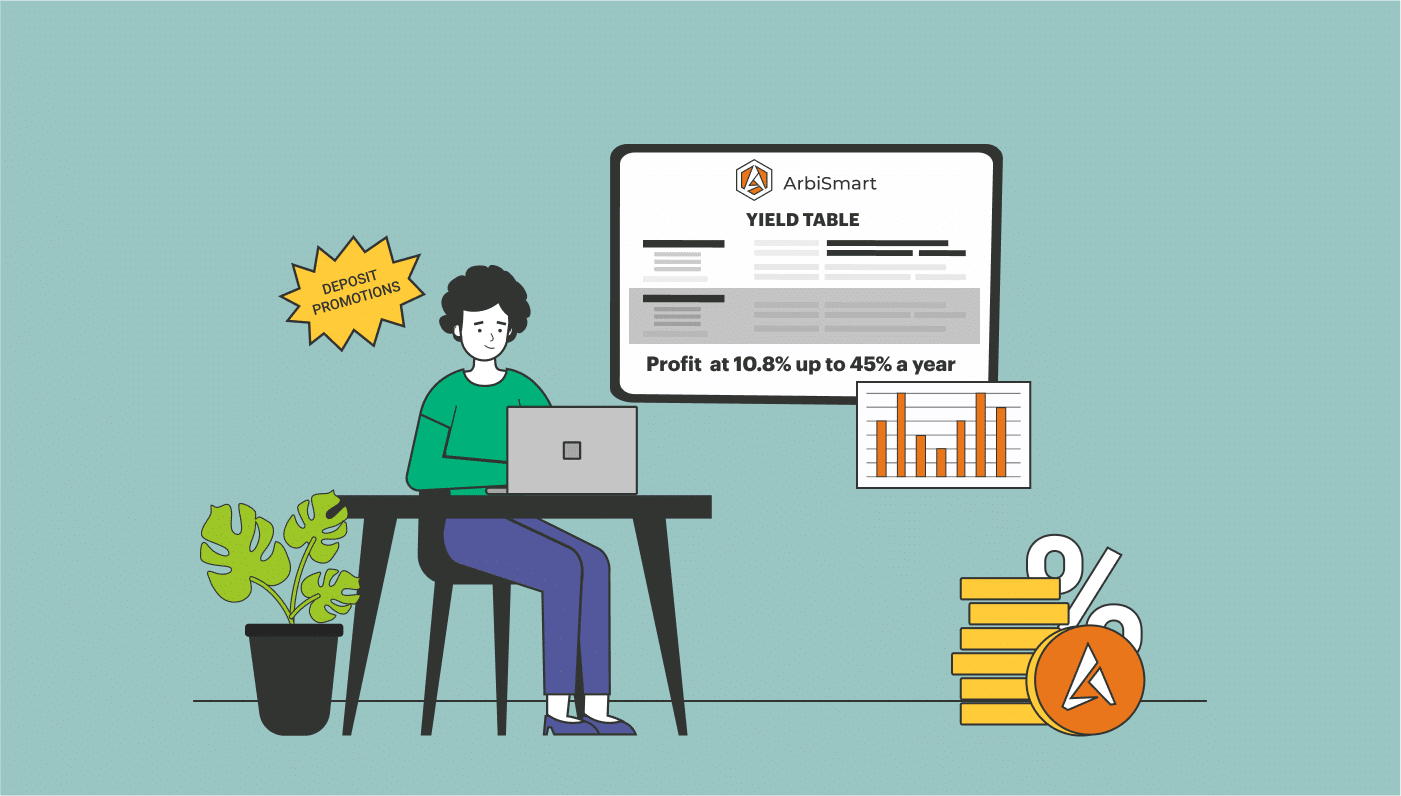 The ArbiSmart yield table shows exactly how much you will be earning in passive profits on both a monthly and annual basis at each account level, starting at 10.8% and reaching as high as 45% a year.  In addition, you will be receiving compound interest on your earnings as well as regular deposit promotions and of course, capital gains on the soaring price of RBIS, which has already risen by 420% in just two years. Another source of passive profits comes from choosing a locked savings account for a pre-set period, which at the highest account tiers offers interest of up to 1% a day. All in all, within a single year, you could be making up to fifteen times the value of your BTC in passive profits.
A Promising Trajectory
ArbiSmart has been steadily gaining support and attracting a great deal of interest among the crypto community. The project has gone from strength to strength, establishing a proven record for security, and steady, reliable profits. The future also looks bright with a series of valuable new utilities in the pipeline and the scheduled token listing, which are likely to drive up the price even further.
If you want to invest in an up-and-coming coin with a profitable utility, and a consistently rising token price, RBIS is hard to beat, but it won't be long before the price stops being affordable.
Don't miss the opportunity, buy RBIS now!
*This article has been paid. The Cryptonomist didn't write the article nor has tested the platform.
The post This Coin is making much higher gains than Bitcoin and Ethereum appeared first on The Cryptonomist.