SPONSORED POST*
Euronin project was created to help adapt cryptocurrencies in Europe. 
Euronin system
The biggest problems that any company will encounter when it comes to introducing a means of payment are: 
legal regulations, 

accounting complexities;

Volatility of the cryptocurrency market. 
We decided to remove these concerns from the minds of people who want to settle their services and goods using cryptocurrencies. We have created a system that allows us to deal with the 3rd side of this transaction. In a European country there is an item (or service) worth EUR 100 that you want to buy You do it in the cheapest, fastest and safest possible way, i e by paying in cryptocurrencies. Therefore, you transfer the equivalent of EUR 100 in cryptocurrencies to the Euronin system (and more precisely in Tether being a virtual currency) and the seller receives exactly EUR 100. 
Everything takes place with the use of the Solana blockchain network, i e at a level that is completely different than previously made payments. Euronin is an intermediary of this payment, providing all parties with technical solutions at the same time. The whole process will take us about 1 minute.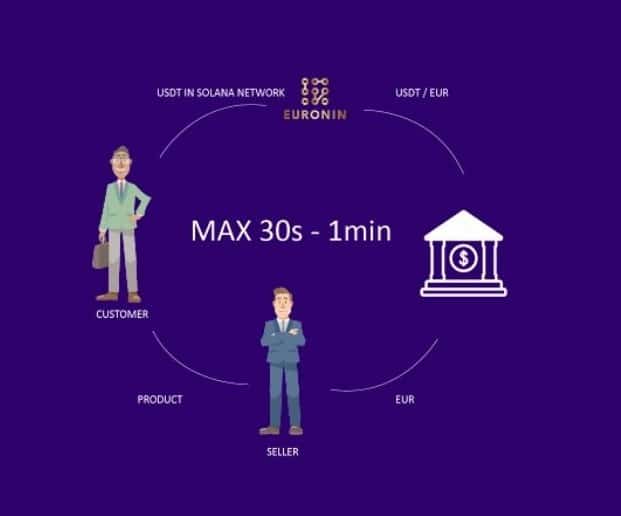 Faster and cheaper payments
This is great news for the seller because he gets paid much faster than by card and much cheaper. The construction of the entire system takes a long time, we have to refine many European companies and accounts in European banks. Our team has been divided according to the qualifications to be able to perform such work. We already have 4 companies in Europe and several bank accounts, we are still waiting for further approvals from the relevant offices. At this point, we are starting the financing round which we will obtain through the DEX and CEX exchanges. 
We built our token on the SOLANA network we love. A large part of the tokens that are part of EURONIN is blocked so that it will not be sold. We are committed to a stable and long-term increase in the company's value and to accelerate the adaptation of the cryptocurrency market. The most important thing is that we can act in symbiosis and use digital currencies to pay in our everyday life. 
Our effort to implement such a product in the long term will bring huge financial gains as well as for the adaptation of cryptocurrencies in classic markets. Over the next 30 days, our ICO will be on several large exchanges to make the development of this product as transparent as possible.
More information
*This article has been paid. The Cryptonomist didn't write the article nor has tested the platform.
The post Euronin, cryptocurrency payments revolution in Europe appeared first on The Cryptonomist.