SPONSORED POST*
Have you been watching the amazing Bitcoin bull run? Do you want to get a slice of the pie before it's too late? Now is the time to act. 
When you enter the digital currency world, you can choose to invest manually or use a trading bot. With increasing frequency, investors are choosing to go with a fully automated trading system to benefit from the incredible volatility of the 24-hour-a-day, dynamic crypto market, since they offer a speed and efficiency that no human can match. 
The Pros and Cons of Trading Bitcoin with a Bot
Automated, algorithmic trading systems offer undeniable advantages, particularly suited to the crypto arena. A bot can collect and analyze a wealth of data in a matter of seconds, monitoring price fluctuations on hundreds of coins across multiple exchanges simultaneously, and executing a vast number of transactions at once, 24 hours a day, 7 days a week. By using a trading bot, you needn't spend hours red-eyed in front of a screen, or ever miss another profitable trade, and can exploit crypto opportunities the second they arise. Also, instead of being driven by emotion, bot behavior is determined by the logic of its coding and an algorithm will stick to the plan without being diverted by greed or fear, even in times of extreme market uncertainty.  
However, one of the primary disadvantages of trading BTC with a bot is that it can be quite costly. A top of the range bot can run to thousands of dollars and once you have paid the flat fee there is no guarantee that your investment will be profitable considering the incredibly volatile nature of the crypto markets. However, as cryptocurrency trading gains ground, enjoying increasing legitimacy and popularity, the market is becoming more competitive, with greater access to open-source software and a substantial reduction in prices.  
Why Strategy Matters
Your choice of strategy is of critical importance, when trading the crypto market, and will determine the type of bot you choose. A common assumption with cryptocurrency trading bots is that they can eliminate human error, but they are only as smart as their programming. If the bot has been coded with flawed strategies, then the trading is liable to result in a loss of capital. 
In the crypto arena, when it comes to making serious money while significantly minimizing risk, there is one strategy that stands out from the crowd – crypto arbitrage.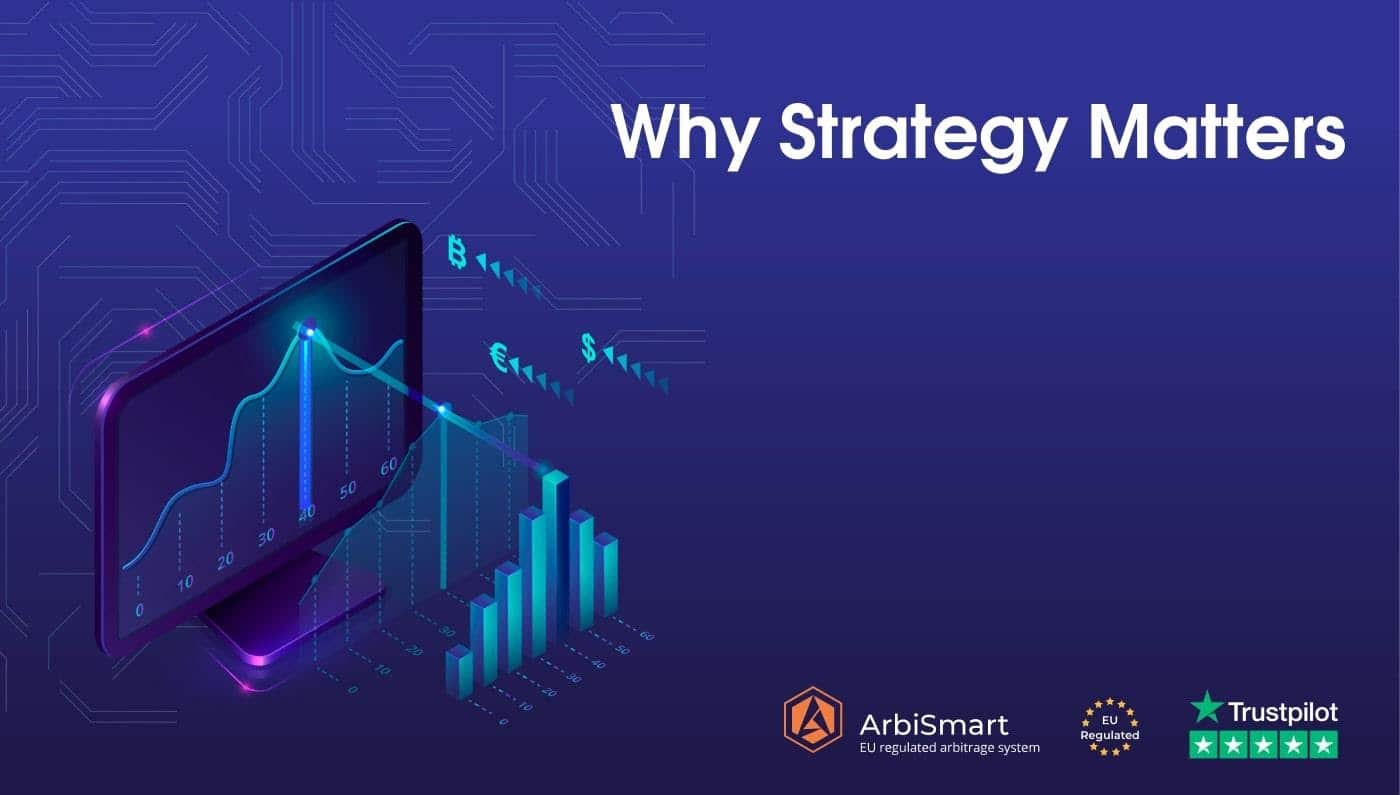 With a crypto arbitrage strategy, you can eliminate all the risks associated with crypto market volatility, trading your BTC with almost zero exposure. No matter what happens to the price of Bitcoin you can earn unmatched profits from your crypto capital. Widely acknowledged to be one of the lowest-risk types of investment strategy, crypto arbitrage has entered the mainstream, and is now in common use by financial institutions, hedge funds investment firms and retail investors. 
The way it works is that it takes advantage of temporary inefficiencies across exchanges. Briefly, a cryptocurrency can be available at different prices at the same time. So, a crypto arbitrage bot will buy the coin on the exchange where the price is lowest and then immediately sell it on the exchange where the price is highest, to make a profit before the market adjusts to compensate for the price discrepancy. 
To successfully implement a crypto arbitrage strategy, you need an intelligent bot that is connected to multiple crypto exchanges, can respond instantly to the market before the window of opportunity closes and can execute a vast number of trades simultaneously to generate generous returns for investors. 
One of the leading crypto arbitrage bots on the market is from a company called ArbiSmart. Its EU regulated, machine-learning algorithm is connected to 35 different exchanges, which it scans around the clock tracking hundreds of different cryptocurrencies to find and exploit crypto arbitrage opportunities, for an ROI of up to 45% a year.  Reassuringly, with ArbiSmart, you aren't just placing your savings in the hands of a machine.  An expert risk management team monitors the market 24/7, ready to intervene with the algorithm if necessary, to provide an added layer of security through human oversight.
Minimal Effort, Massive Returns 
With ArbiSmart you do not pay any licensing fees and you are earning from multiple channels at once. Despite its complex engineering the platform is extremely user-friendly. You simply sign up, deposit funds and the platform takes over from there, converting your capital into RBIS, ArbiSmart's native token, and using it to trade crypto arbitrage on your behalf. The platform generates a passive income ranging from 10.8% to 45% per year, depending on the size of your investment. While the system is fully automated, you are in complete control and can withdraw your funds at any time you wish, in EUR, GBP, BTC, ETH or USDT. 
The company's Accounts page outlines exactly how much you can expect to earn per month and per year, based on your account level. Your crypto arbitrage profits are boosted by compound interest. You will also earn capital gains on the rising value of RBIS, which has already risen by 210% and, based on the ArbiSmart's current rate of growth, is projected to rise by as much as 3,000% by the end of 2021.
ArbiSmart is not only profitable, it is also secure. It counters the inherent crypto investing risks stemming from high market volatility and also protects you from the under-regulation of the crypto space that has led to high instances of criminal activity.
As an EU licensed and regulated platform, ArbiSmart must submit to frequent external audits. It must also comply with the strictest European regulatory requirements with safeguards that include adherence to tough data security standards, the implementation KYC/AML procedures, separation of client and company funds, maintaining sufficient operational capital and the provision of full client account coverage. These consumer protections mitigate the risk from fraud and hacks, making for a secure and transparent Bitcoin investing experience.
Peace of mind is also provided by the fact that the company has a stellar online reputation across the crypto industry press and social media sites, as well as consumer review platforms like Trustpilot, where ArbiSmart has an excellent rating. It also offers multiple support channels, making the team highly accountable and accessible to its global client base. 
Bitcoin, Ethereum and the entire crypto market has exploded over the last year, offering amazingly lucrative opportunities to investors at every level. If you want to get a piece of the action without any of the risks incurred from trading on crypto market volatility and without having to spend hours glued to a computer then a crypto arbitrage trading bot is by far your safest, smartest and most profitable choice.
Don't miss your chance to benefit from the Bitcoin rally. Become a crypto arbitrage investor and earn a high, steady, passive income, starting today, at close to zero risk. 
*This article has been paid. The Cryptonomist didn't write the article nor has tested the platform.
The post You Still Have a Chance! Use This Bot Trading Strategy to Triple your Bitcoin appeared first on The Cryptonomist.