Bitcoin (BTC) Price Prediction – May 25, 2021
For the past week, Bitcoin is in a downward correction as price fluctuates between $32,000 and $42,500. Recently, the upward move has been restricted below $40,000. Nonetheless, the price movement has been stable above $35,000. The bottom line is that the price action has been characterized by small body indecisive candlesticks called Doji and Spinning tops.
Resistance Levels: $45,000, $46,000, $47,000
Support Levels: $35,000, $34,000, $33,000
In the previous week, BTC/USD has been in a downward correction as bulls attempt to break the resistance at $42,500. In the first three days, the bulls attempted to breach the resistance at $42,500 but were repelled. Bitcoin fell and rebounded above $32,000 support. The recent upward move has been stalled below the $40,000 resistance. Buyers have been repelled twice at the recent high. On the upside, if price breaks the resistance at $40,000 and $42,500, it will signal the resumption of the uptrend. Besides, a rally to $46,000 high is expected. Conversely, if the current fluctuations continue and the bears break the $35,000 support, it may signal the resumption of the downtrend. The king coin will decline to the low of $28,000.
Tesla and Microstrategy Slowly Lose Bitcoin Shine- Bitcoin Is in a Downward Correction
MicroStrategy and Tesla are high-profile corporate entities that allot billions of dollars worth of Bitcoin to their balance sheet. They were credited in part for pushing up the price of Bitcoin throughout the end of 2020 and the beginning of 2021. However, these purchases have a knock-on effect on the stock prices of Tesla and MicroStrategy. For instance, Tesla shares fell from $880 in February to $580 at the time of writing. Similarly, MicroStrategy's shares are now worth $448 from February's peak price of $1,272. Bitcoin's continuing surge amid these stock losses could imply that traditional investors were less willing to gamble on Bitcoin's continued success than those in the crypto space.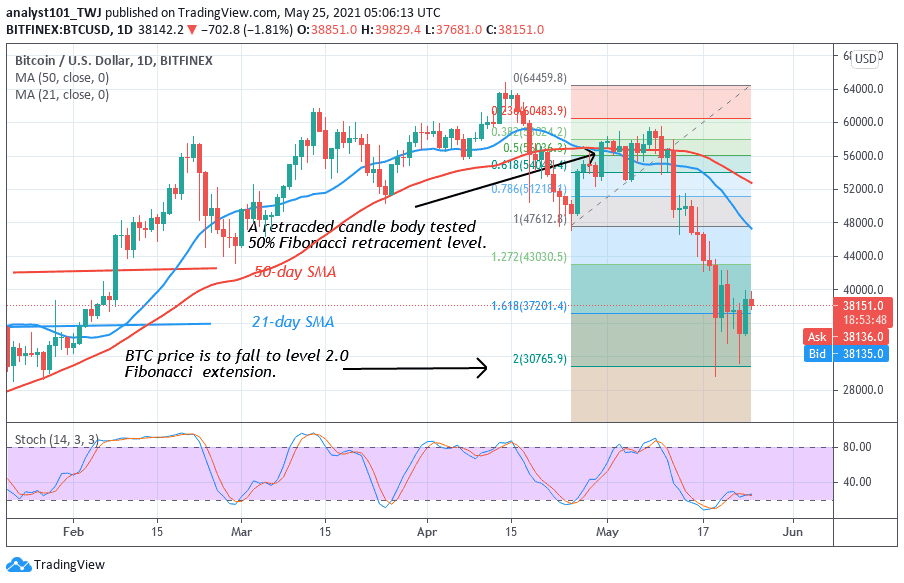 Meanwhile, Bitcoin has resumed its upward move to retest the $40,000 high for the third time. The previous attempts were unsuccessful as the BTC price was repelled. The uptrend will resume if Bitcoin overcomes the first hurdle above $40,000. However, the downward correction will continue if Bitcoin turns from the recent high. The price action has confirmed the 2.0 Fibonacci extension where Bitcoin fell and resumed upward.